Home Is Where The House Is...
This is my house on Bonnie Branch Road in Ellicott City. I like to call the homestead Poison Ivy Acres. If you're ever in Ellicott City, drop by for a visit and say Hi! (Click on a picture to get the larger version.)
---
I gave my house a face-lift this year, i.e., the summer of 2005. A new roof and new siding. It was originally built in 1954, so it needed it. Still lots of work to do.

















---
I took some nice pictures during the winter in 2005.











---
This is the house during the fall of 2004.






---
These winter scenes were taken in January 2001.





---


The green of summer and red of autumn.

---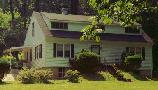 This is my house back in 1994 when I first moved in.
---
HOME | MICHI-FUN | PERSONAL | LINKS
---
This page is maintained by Ryan Simmons, at RyanS@sprynet.com.
This page was last updated in February 2005.